The PROTOCOLO brand hits the catwalk at the 29th edition of the Goya Awards. On the night of February 7th, during the biggest annual celebration of Spanish cinema, the designer label dressed the actors Alberto López and Alfonso Sánchez for their red carpet arrival. Both are big stars from the megahit Spanish film The Spanish Affair. The brand also took to styling the scene for the Gala performance. Spanish fashion house to dress the stars in black-tie attire at Spanish cinema's event of the year.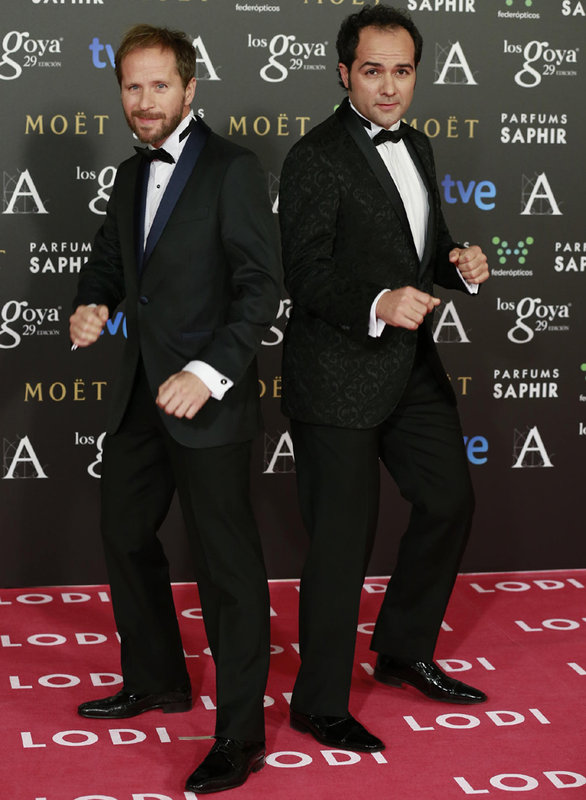 Tatiana Hernandez was the stylist in charge of preparing the showroomevent organised by the Spanish Cinema Academy. She dressed the Seville-born comedians in PROTOCOLO designs from their 2015 collection promoting the soirée's official black-tie dress code. Alberto López lució wore the Piñar tuxedo with a jet-black textured blazer and midnight blue, satin lapels. Meanwhile, Alfonso Sánchez looked the part in the Nivar suit with a black blazer made of brocade fabric. Together they took to the stage, placed in the eyes of media. A rather dapper pair indeed!
During the gala, this Sevillano duo, pals in the Spanish movie The Spanish Affair awarded the prize to the best Director both dressed in PROTOCOLO's cream, Burriel tuxedo.